Top Ten Places To Eat On The Island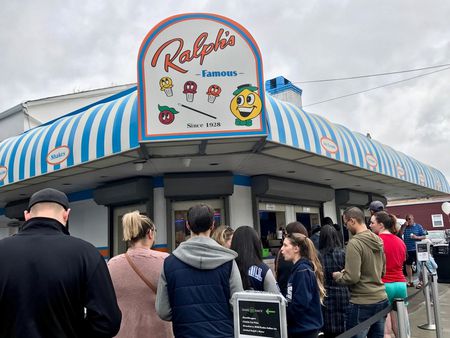 As the city opens back up with decreasing hospitalization and increasing vaccination rates, it's time to get back to our favorite food spots! If you're looking for new places to explore, want the perfect hang out spot for your friend group, or just want to grab some good food to-go, we've prepared a list of spots that can't be beat.
The addresses and phone numbers of each location are also listed underneath their descriptions!
Staten Island Mall Food Court
This is a place that EVERYONE on Staten Island knows about, so it just had to be included in this list. The mall's food court has just been upgraded, which is what makes it so great. My favorite place there is definitely Chick-Fil-A or Popeyes. It's also a popular hangout spot in Staten Island: people come here not only to eat but also to socialize. If that wasn't enough, it's a doorstep away from Dave and Busters, which also has some pretty good burgers! With that all being said, if you haven't been here, what are you waiting for? Check it out, grab a nice meal, and go play some arcade games!
2655 Richmond Ave
Arirang Hibachi Steakhouse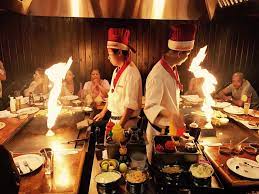 Who doesn't love a bit of entertainment while they eat? If you've never been to a hibachi place, Arirang Hibachi Steakhouse should be your first. The hibachi chefs are so funny and sweet! And they are so talented with the best tricks! Aside from the show, the food that comes out of it is amazing. My favorite hibachi dish is definitely the chicken. This is a great place for a night out with your friends or family and you should for sure check it out if you want to try something new and fun!
23A Nelson Ave · (718) 238-9880
Alfonso's Pastry Shoppe
Every time I have ever needed a cake or pastries, I always go to Alfonso's Pastry Shoppe. They give you so many unique cake flavors and pastry options to choose from. If that doesn't satisfy you, you can even order a custom cake! They also have small, classic, Italian pastries like cannoli, napoleon, and my favorite, cream puffs. The place has such friendly staff and two locations throughout Staten Island. Next time you're in the mood for pastries or in need of a cake, be sure to check out this Italian bakery. 
1899 Victory Boulevard · 718-273-8802
Miyabi Asian Fusion
If you are a big sushi fan, you should check out Miyabi on Forest Avenue! They make the best rolls, with classics like shrimp tempura, California, and rainbow. They also have specials with my personal pick being the sushi chef special which contains a California roll, tuna, yellowtail, and soy sauce! If you are not a big fan of sushi but your friends want to take you out to get some, you're in luck because they have many options outside of sushi on their menu! Such as my favorite, the calamari salad, and many other Japanese-styled foods. The setting of this restaurant is very peaceful and quiet, so it's definitely a great place for some meditation while you eat.
1348 Forest Ave · (718) 876-8088
Something Sweet Homemade
Something Sweet Homemade is a cute ice cream/sweet shop located in New Dorp! They have ice cream, macarons, and what they are most known for, bubble tea! I have been here quite a few times, and my favorite thing to order is the mango milk bubble tea. But if you are not a fan of milk tea, they also have many fruit tea flavors! It's hard to find a place with good, soft, macaroons, but this place always makes them the best! With unique macaron flavors like Nutella, tiramisu, apricot, and my favorite being matcha, their superiority in macarons are unmatched on the island. If you like bubble tea and little sweets, this is a great place to visit.
314 New Dorp Ln · (718) 987-8088
Buffalo Wild Wings 
Everybody loves wings, which is why Buffalo Wild Wings is the ideal wing place in Staten Island. This location is both take-out and dine-in. They also offer a wide variety of wing sauces, so if you're not a big fan of spicy foods, this is the place to go! My favorite flavors are mild buffalo and garlic. This is a great place for casual dining with friends and family, especially if you are a sports fan. And it also has locations outside of Staten Island, all over the country!
1447 Richmond Ave, Staten Island, NY 10314 · (718) 442-2332
Brother's Pizzeria
Brothers Pizza is another famous family-owned pizzeria on Staten Island. Their pizza place is more of a casual setting, which is personally, my preferred restaurant setting. They have a wide variety of pizza and salads, with my personal favorite being the buffalo pizza and the buffalo chicken salad. This restaurant is located in Port Richmond, closer to Forest Avenue.
750 Port Richmond Ave, Staten Island, NY 10302 · (718) 442-2332
Ralph's Italian Ice's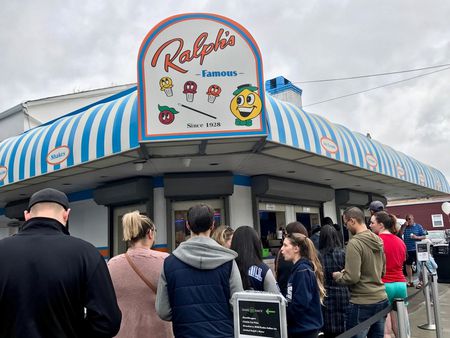 If you're from Staten Island and you've never had Ralph's, you're missing out. This Italian Ice place is found exclusively in New York and New Jersey, but they originated in Staten Island, which is what makes it the most iconic ice place on the Island. They have a huge variety of homemade ices and ice cream, with the most popular being cherry, mango, and rainbow. If you're not into that, they also have their own unique shakes! They have several locations throughout Staten Island and their own trucks. 
501 Port Richmond Ave · (718) 273-3675
Beans and Leaves Cafe
The Beans and Leaves Cafe is absolutely my favorite breakfast place. They have a wide variety of breakfast foods including waffles and pancakes. But they aren't just any kind of waffles and pancakes. You can order them with Nutella, M and M's, and so many more options! My favorite has got to be the waffles and Nutella. With some whipped cream on top, you just can't go wrong with it. In the cafe fashion, it is also a really cozy place. And how could you visit a cafe and not order coffee? They have tons of different flavors including Italian, French, and my favorite, caramel. In addition to coffee, they also have a large variety of teas, with my favorite being mango miss. They are located in the heart of Forest Avenue.
422 Forest Avenue Staten Island, NY 10301 · 718-428-0276
Denino's Pizzeria and Tavern
Denino's is one of my favorite pizza places, and it's known by every Staten Islander. You don't always find a good thin crust pizza, but at Denino's they make it the best! My favorite thing on their menu is for sure their fried calamari. It's crispy, and it always pairs with lemon! The staff are so friendly, and it has a really homey vibe to it, so if you're a pizza lover, you need to visit this place. They are located in Port Richmond, a block down from Ralph's Italian Ices. 
524 Port Richmond Ave., Staten Island, NY 10302 · 718-442-9401