Pandemic Pets
     Since the dawn of time, pets have always been there when we needed them most and widespread loneliness caused by a pandemic seems to be one of those times. Interestingly enough, the pandemic has played a huge role in the recent uptick of adoptions. According to a survey taken in December 2020 by statistica.com, 10 percent of customers bought a new pet. Is this surprising? When you think about it, not at all! Many people believe that pets are an overall net positive for one's well-being! According to another survey taken by petassure.com
76% agree human-pet interactions can help address social isolation 

72% believe human-animal interaction is good for their community 

80% of pet owners say their pet makes them feel less lonely 
     On that note, pets have been a great support for much of the staff at Curtis during these turbulent times. We asked a few teachers about their pandemic experiences with their furry (and scaly) friends! 
     Ms. Francis, a math teacher, adopted her dog, Bali, during quarantine in May 2020. "Remote learning was one of the reasons why I decided to adopt a puppy last year. Since I knew I'd be home to train and bond with her, it was a good time to do so. She's also
a daily reminder to take breaks during the workday. Bali reminds me every few hours that we both need to go outside and get some fresh air!" She also said that "Sometimes she tries to play with me while I'm teaching, and sometimes she barks while I'm on a Zoom call. However, by now she knows the routine and usually naps while I work."
Ms. Isasi, a Spanish teacher, also adopted her dog, Shrek, during quarantine. "We rescued him on January 4th because of the loneliness during quarantine. My youngest son moved out in August and the house was sooooo empty. We needed to fill the void especially since we don't go anywhere!" Similar to Bali, he also has a presence on her class zoom calls. "Some kids complain that they can hear him snoring while I am teaching. He does it very loudly!" Despite she enjoys the extra time spent with Shrek, Ms. Isasi looks forward to coming back to school. "I know that it will be an adjustment for both of us but he will still have his Papi at home. Therefore, I feel it will be worse for me! Just look at that face! Who would not miss him so much?"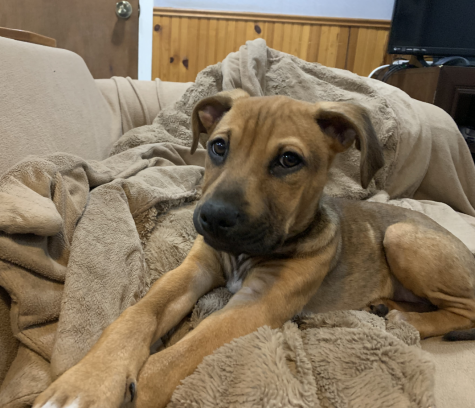 Ms. Urso, a psychology teacher, also adopted a puppy in the last few months. "I have recently gotten a 3-month-old pit bull – terrier mix from a shelter in NJ. Her name is Nola and was named after one of my favorite cities, New Orleans, LA. Online school is all she knows and while she does not interfere, she has "met" some of my classes. Although we have only had her for literally a few weeks she is a wonderful addition to our family."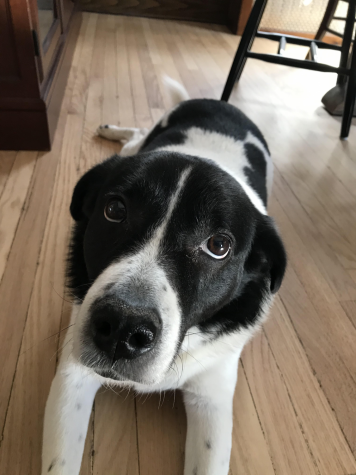 Unlike the others, Mr. Cogan, an English teacher, has a ton of pets. "I have two red ear sliders (turtles) that I got in 1992 and a seven-year-old Borador named Mugsy that we adopted from a shelter when he was a puppy. As if that wasn't enough, we also adopted two kittens, Lilo and Stitch, who were abandoned by their mother and hand-raised by a friend." Now with everybody at home, Mr. Cogan's pets have been able to enjoy more quality time with him and his family. "The turtles are pretty chill; we only take them out of their tanks during the warmer weather. They spend most of the day basking on their rocks under their heat lamps. Mugsy has definitely enjoyed us being home with him; he gets extra attention and longer walks!" Just like the others though, Mr. Cogan's furry friends make guest-star appearances in his classes. "The only time Mugsy has interfered with my teaching is if someone comes to the door or drops off a package. He feels he has to alert the whole house that someone is intruding and he won't stop barking until I acknowledge that he has protected us from whoever was out there. The cats, on the other hand, especially Lilo, will walk over and sit down on my keyboard or rub against the Chromebook, jarring the camera. Fortunately, they mostly sleep when I teach. While I know they like the time and attention, I look forward to going back!"
     In a time when so much seems uncertain, our animal companions have been a comfort to many. Times like these remind us why pets are, certainly, man's best friends.