Boys Varsity Basketball Player Adeleye Oyekanmi Makes a Name for Himself
Adeleye Oyekanmi secures a memorable win for him and the varsity team.
Hang on for a minute...we're trying to find some more stories you might like.
Adeleye Oyekanmi secures a memorable win for him and the varsity team
With about 6 seconds left and the game tied, Adeleye Oyekanmi gave it everything he had with a shot from beyond the half court line to clinch the win against Archbishop Stepinac at the Westchester County Center.  His shot  allowed the team to avoid going into OT against last year's state champions when he made the shot at the buzzer and pushed them to 72-69 win.
It was an electric moment, with all the players clearing the bench & Coach Dwayne Archbold ran onto the court to celebrate. The victory was a huge fall for Archbishop Stepinac, the team was the 2017-18 Class AA New York State Champions. Coach Archbold described the game as a test and a challenge heading into the heated match-up. "The whole game was a back and forth battle with many ties and each team leading by only two points at multiple times during the contest. When he took that shot at the end of the game on a big stage like that with many watching. Man, it was electric," said Archbold. This will go down as such a great memory for Adeleye and his the Curtis Warrior Basketball Team. "It was an amazing experience. Man, when I made that shot, and made it, bro I felt like a legend," said Oyekanmi.
About 20 minutes after the game, Coach Archbold was receiving calls and texts from many social media outlets because of the amount of press that was at the game. One of which was ESPN. Archbold gave permission right away for ESPN to use the clip for their SportsCenter Top 10 Plays of the Week for their December 23, 2018 video. The video has over 12,000 views and has been shared across many media platforms.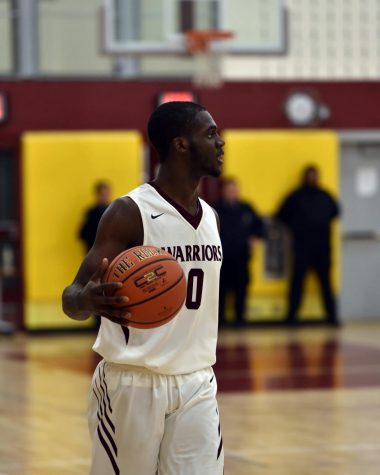 Adeleye Oyekami scores 1,000 points during annual holiday game 
Adeleye Oyekanmi, a four year varsity player and three year starter, entered the traditional Thanksgiving Eve game against rival St. Peter's with a nifty 73-19 career record. Oyekanmi needed only nine points that night to reach this milestone. He was the first player in Curtis history to reach 1,000 points in the Thanksgiving Eve game. Adeleye  scored point 1,000 and 1,001 on a layup after driving down the middle of the lane. He become the 12th Curtis player to reach this milestone and also has the distinction of being the first and only Warrior to do so during a Thanksgiving Eve game. "It feels good, but not as good as it would have felt if we had done it during a win,'' said the 6'4 Oyekanmi, who averaged a career-high 14.8 points per game as a junior. "It's nice knowing I'm the only Curtis player to ever do it on opening night, but I wanted to win too.''
Coach Dwayne Archbold, a three year varsity head coach said "He's been a big part of our program the last four years, He's contributed to our success and we're extremely happy that he reached the mark."