Boys soccer makes city finals after 29 years
A team dedicated to teamwork makes it to the championship
Jospeh Ramirez
January 2, 2019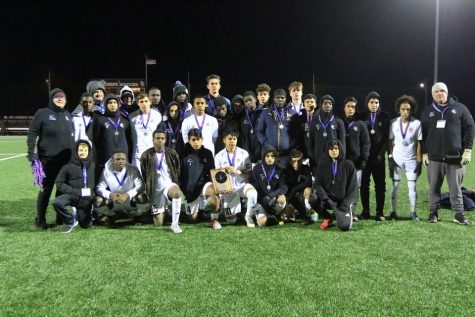 With a spectacular regular season record of 10 wins 2 losses, The Curtis Warriors Varsity Soccer Team was able to clinch a trip to the championship finals for the first time in 29 years. The secret to this accomplishment was the chemistry of the team,  seven of the 11 starters have played together for their club teams off and on for the last 10 years with four of them still on the same team. Edgar Trujillo, Alexis Moran and Daniel Angulo and Sebastian Lopez play for Cedar Stars 2001 team and three of them have been starters for Curtis since their freshman year.
The Warriors managed to maintain a great home record with no recorded loses, winning 8 of their 10 PSAL home games including three playoff games and tying two regular season home games.  With their hard efforts during the regular season, the team managed to secure their spot in the playoffs as the seventh seed in the city.. By winning the division , the team was able to place the highest seed in Staten Island, giving them a clean road to the finals. As they advanced deeper into the playoffs, the fanbase for the team grew, giving them more motivation to challenge teams of higher ranks.
As they reached the semifinals the competition got harder and harder.  The semi final game was scheduled for election day at Randall's Island.  By the time the team arrived it was pouring rain. Alexis Moran describes the rain as "really bad, every second I had to wipe the rain off my face. " The game was tied 0-0  at the half with key player Alexis Moran out with an injury. 11 minutes into the second half Edgar Trujillo blasted the ball that was deflected by the goalie, but the goalie couldn't hold on to it and David Garvin was able to slide tackle it into the goal out of the defenders feet. For the rest of the game the squad defended their goal to beat the third seed, Beacon High School.
With this major win, they reached the championship at St. John's Belson Stadium, playing against the NYC powerhouse and 3x back to back soccer PSAL champs, Martin Luther King Jr. High School. The Warriors managed to keep the game close at 0-0 in the first half but things quickly turned bad for the Warriors when the Martin Luther King soccer team went on a scoring four goals in the second half to win it all. This was devastating for the Warriors , especially the seniors who worked so hard for this. Kacper Lesnak described the experience as "phenomenal, I had a great experience my senior year making it this far".  With the end of a great season, coach Turner recalls her star season saying "my favorite experience was the quarterfinals and the fan turnout we had. For the first time in a while the stands were full and we had the support from the whole school."