Girls gymnastics finish strong
The girls gymnastics team had a successful season with wins against nearly all other Island teams.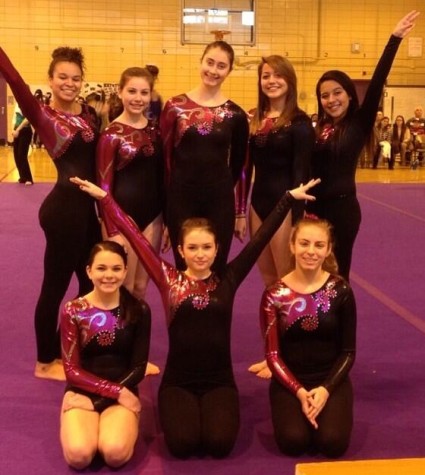 Considering they have only been competing for two years, the girls' gymnastics team had a very successful season, besting every team on the Island except Tottenville, who won the city championship.  On January 5th, 2014, the girls competed at Aviator Sports Complex against all the schools in the city, coming in second place with a score of 101.250.
Eva Pugliese, a junior and competitor in every event, has been on the team since last year and thinks this season was a success,  "I think our skills have improved by working as a team and doing it together. I look forward to next season and working harder to get to the top three finals." Pugliese has improved greatly this season, going from a 6.3 on vault to a 7.2.
Four new girls joined the team and easily compensated for the three departing seniors. Coaching for the second year, Jackie Poznansky is a Curtis alumni and works with both the novice and experienced gymnasts.   Already experienced gymnasts Jada Mahone and Clara Kuhn lead the team, with both competing in all five events.
Jada Mahone was part of the team representing New York PSAL in the state meet.  Along with athletes from Cardozo, Tottenville, and New Dorp the New York City team placed fourth.   Mahone's skills brought her to compete in state finals. "It was a really great experience and I hope to make it to states again next season," she said. Mahone has been competing in gymnastic competitions since age six and has a passion for the events floor and vault because of the "adrenaline rush."
Leave a Comment