"Puppy Party" held before Finals Week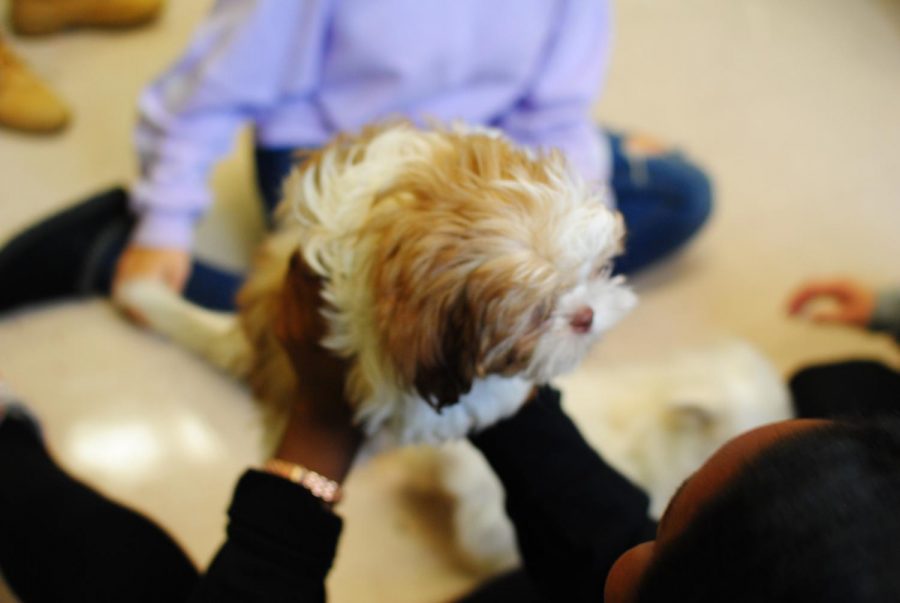 It was a mostly normal Tuesday: up to my eyes in work before finals, project deadlines fast approaching, and studying, studying, studying. As my seventh period lunch rolled around, I couldn't help but become excited for the "Puppy Party" I had signed up for the week before. I didn't know quite what to expect when I arrived at Mr. Archbold's office, but there was a crowd gathered around the door, which is usually a good sign. When it was my turn to go inside, I soon realized how apt a description "Puppy Party" truly was. 
There were four little fluffy puppies racing around in a space blocked off at the back of the office. Myself and three other students were let into their temporary enclosure, where we promptly began to gush over how impossibly adorable they were. They dashed between us with the vigor of youth and would barely stand still long enough for us to tell where one dog ended and the next began. "The puppy party for me was very stress relieving," said Jocelyn Nieto, a junior in the IB program. "It distracted my mind from finals week, even if it was only for a few minutes. I continued to talk about seeing the puppies until I got home!" 
Held on January 14th in order to help students relax and de-stress before Finals and Regents Week, the event was part of Self Care Day. There were two sessions of student yoga 5th and 6th period, while the Puppy Party took place during 6th and 7th. Students who had either a lunch period or hole in their schedule were able to sign up using the QR code located on the posters hung around school. In an email about Self Care Day sent by Mr. Archbold to Curtis staff members, he assured that the events would be held again at a later date "to accommodate the rest of the school community."  
If asked to give the Puppy Party a rating, I would certainly say off the charts. The intention was met and, personally, I appreciate the effort made by Curtis to relieve student's testing related anxieties. High school can be difficult, but maybe not so much if puppies are involved.