Ribbon cutting ceremony officially opens new 2017 wing
Celebrating the completion of the new wing drew a large crowd.
Ramota Olatunji, Staff Writer
November 13, 2017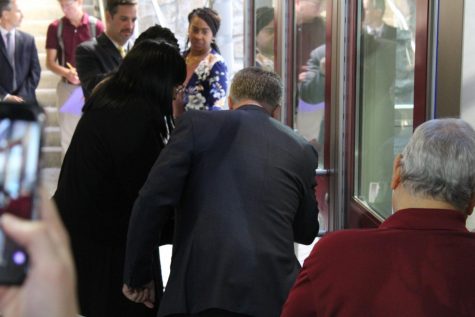 February 9, 1904 and October 5th, 2017. These dates mark the beginning of a new chapter in the education and road to prosperity of the Warriors of Curtis High School. In 1904, the original building of Curtis High School was opened, and over a century later, the "2017 Wing" of Curtis High School was opened.
This new building was much needed. From the nurturing environment, outstanding athletic performance and effective education system, Curtis High School became the destination for many students from all over Staten Island and even those on the other side of the ferry. As the community grew bigger, the need for an extension became dire. At first Curtis turned to trailer classrooms but that proved to be a temporary location due to the weather conditions that students had to endure to get to these "classrooms."
It became the mission of Dr. Aurelia Curtis, the former principal, to provide a suitable learning environment for the students of Curtis High School that she knew deserved better than a trailer classroom.
After years of blood, sweat, and tears, on December 2012, the construction of the 2017 building was approved. When discussing the path to success, Dr, Curtis said, "2012 didn't just happen. December 2012 was a result of many years of advocating and meeting. The students at Curtis High School deserve to learn in places that weren't temporary… The construction of this building was an effort that took a lot of people believing the students of the North Shore deserved better than temporary learning units. Education in a seat in the 2017 Wing will give students the desire and opportunity to fulfill their mission." With purpose, dedication, hard work, and persistence, Dr. Curtis made the 2017 Wing achievable.
The new building boasts 11 classrooms, a gymnasium, and a multimedia room.
Staff was joined by Council member Deborah Rose. She is a firm believer that,  "environments and aesthetic has an effect on people's attitude" and therefore believes that students will participate and attend more of their classes since they are in a more suitable learning environment.
The 2017 wing may seem like a regular building to those who do not know the history behind it. Little do many know that each and every brick was placed with purpose and a mission. Members of the community were worried that the construction of a new wing in Curtis would take away from the atmosphere that the original Curtis High School generated so the it was one of their goals to mimic the style of the original building. Did you know that the benches in front of the building were made from bricks that are significant