Mr.Delin Goes Viral
History teacher makes an appearance on ABC news.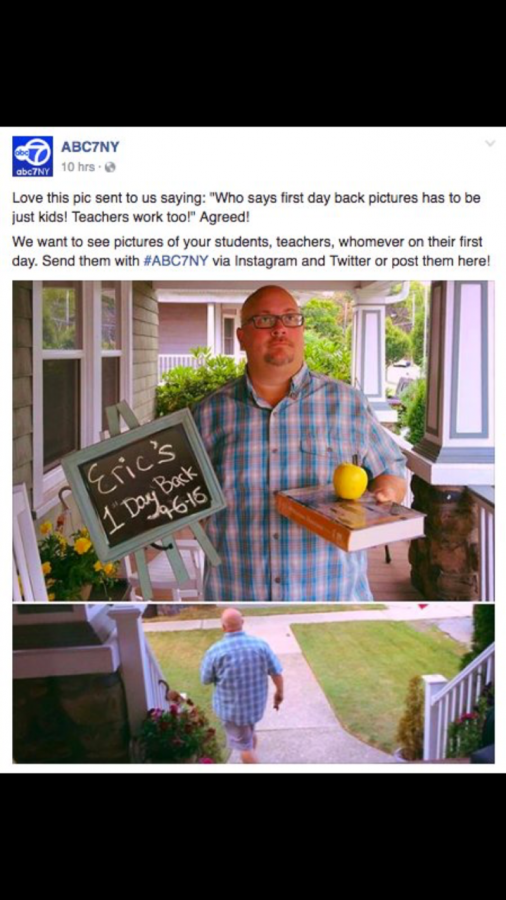 This September, many students were surprised to see history teacher, Mr. Delin, on ABC News. A photo of him going to his "first day of school" was posted to the ABC News Facebook and Twitter accounts.
No one expects to see a photo of their teacher on the news, and Mr. Delin didn't expect to see it either. "During September, a popular post on Facebook is photos of children posing before their first day of school but this time Delin turned it around and had his wife take a picture of him. "My wife sent it in to ABC news, and I congratulated her because of course, she didn't tell me that she sent it in. I found out when I was scrolling down the ABC news Facebook page, and there I was."
People have many different reactions to going viral. "Just a smile and a little laughter," said Mr. Delin on finding out that he made the news for his first day of school picture.
"The picture was fun, it was a goof. Everyone enjoyed it. I had no problem with people laughing at it and my initial reaction was surprise and saying 'oh great, here we go,'" said Delin.
Hannah Lonergan, a senior who had Delin as a sophomore said, " I thought it was pretty rad since I remember him as very comical."
        Current sophomore, Ricardo Mediavilla who has Delin as a teacher said, "I thought it was pretty cool to have Mr.Delin as my teacher with him recently being on the news."
        Heather Rahn was one of the first people to tweet the photo, she is believed to be the person to make the photo go viral.