The Virtual Clubs: Up and Running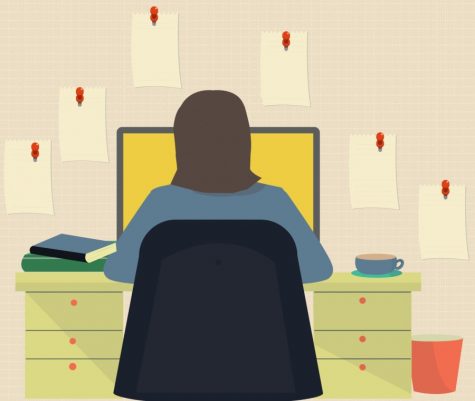 Clubs are one of the most important aspects of high school because they provide so many opportunities for growth outside of the classroom. Participating in clubs enhances students' communication skills, creative thinking, and abilities to work efficiently with other people. Extracurricular engagement is also important for college admissions, as it's one of the ways that admissions officers gain insight into you and your personality. While the pandemic has made it difficult for clubs to operate, they sure are active! There is a vast variety of clubs and activities around the school that students can get involved in, some run by students and others by our teachers. Although they all operate in a virtual format, these leaders still manage to make our clubs interactive and enjoyable.
Some clubs, like Key Club, are more about helping people outside of Curtis. "Key Club is about giving back to the community by raising money for charities and holding service events. Of course, our way of giving back has changed drastically. As the president, it was, at first, challenging to lead and brainstorm ideas for my club, but I became more comfortable holding meetings on Zoom, instructing officers, and implementing new ideas as time went 
on. We meet every Thursday where I exhibit a google slides presentation with the help of my officers to keep my club updated on our activities," said Omosefe Noruwa, the President of Key Club and sophomore. "Things have been going pretty well, and we were even able to raise $800 for Project Hospitality by selling popcorn digitally! This is just one of our many fundraisers, and I can't wait to show what Key Club has in store for the future!" 
Besides community engagement, other clubs focus more on student interests, whether it's related to religious affiliations, personal identity, or academic subjects, there's a club just for it! Mrs. Zatoren, leader of Math Club, said, "I honestly thought that when schools went remote, no one would show up to Math Club. It is definitely harder to run a club virtually, especially since there are so many things that I could show faster if we were in person, but I am so happy that we have a consistent group of kids showing up." Math Club is excellent for those who enjoy math and seek to discuss it with others who share the same interest. 
Some clubs, managed by both students and adults, primarily center around supporting and offering virtual guidance to students. Since some teens may feel uncomfortable discussing certain topics with their parents or guardians, clubs like 'Ladies First' to 'For the Boys' provide them with the knowledge they need to make healthy choices. In clubs like the Curtis College Success Club (CCSC), students are guided through different aspects of the college application process. Jun Yi He Wu, senior and founder of the CCSC said "Running a club during this pandemic is quite hard. I started the Curtis College Success Club in the fall of my senior year alongside Emre, our co-founder. Our main idea was to create a club where seniors could mentor other students about the college application process through workshops and individual interaction, but that was challenging. After publishing the pamphlet, we saw many students join us, but we weren't able to get to know most of the members because their cameras were off and they didn't speak. However, I was able to create a small community consisting of seniors and juniors who met to plan the workshop and in which we don't lack the social aspect. I would not say my club was successful and able to overcome the limitations caused by the pandemic, but we are working very hard to make it all come together." The CCSC is great for sophomores and juniors who want to learn more about and gain assistance with applying to college, finding internships, and acquiring skills that will aid them in their professional lives. 
Put your free time to use and meet new people by joining some clubs! Read all about the available clubs here: https://curtishs.org/ourpages/auto/2020/10/28/52295926/February%2022_%202021%20Curtis%20Community%20School%20Newsletter.pdf?rnd=1613997795000
https://docs.google.com/document/d/1GULfKB6T6hyIU1nJ0hQOhkc6wpNDZI_f/edit