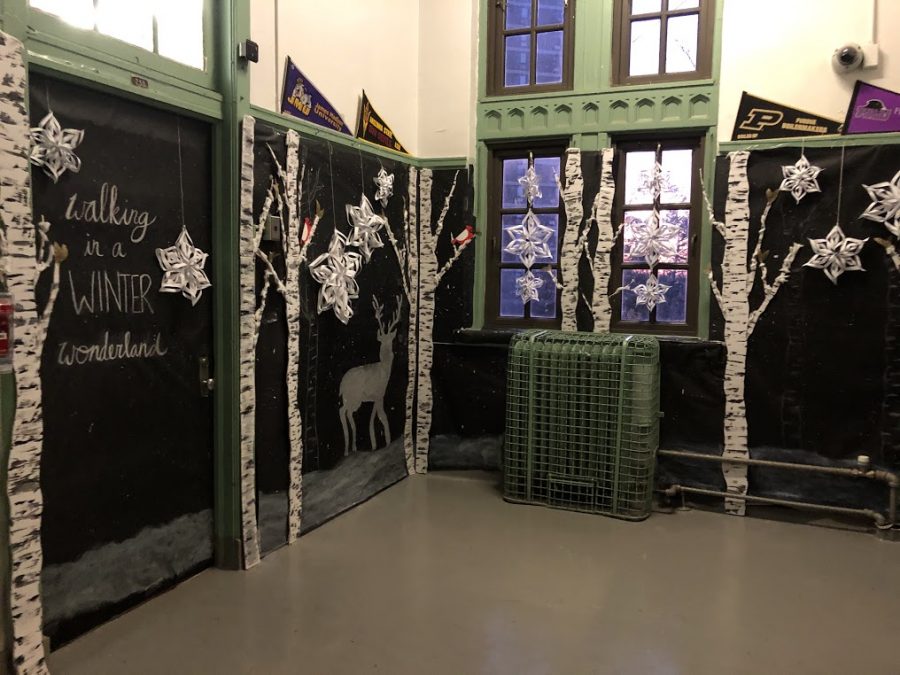 At the end of every year, coinciding with the holiday season, the Holiday Door Decorating Contest brings a little cheer to the halls of Curtis. Just before Winter Break, the vibrant doors are displayed in their full glory, for staff and students to vote which door is best. The tradition of the holiday doors has been at Curtis for several years now, each better than the last, and every design brings some unique holiday flair to our day-to-day lives.

This year, Room 233, belonging to Ms. Goodacre and Ms. Carroll, won the door contest with an incredible display that expanded all the way from their door to the right-hand wall turning into the hallway. The color scheme was black and white, with splashes of red in the shape of birds, and on the front of their door was a short poem by Robert Frost. The decorations made the space seem like a scene from a movie. The runners-up were also very creative and beautiful. Room 207B (Ms. Pizzarelli) had a cute door with penguins and a cheesy pun. Room 410 (Ms. Erck) was eye-catching, with a Wu-Tang Clan theme and a custom art piece of the group in Santa hats! Run by Ms. Vaccaro, Room 356's theme was the Grinch, but instead of the classic figure stealing gifts, he was snatching good grades instead and throwing them into a fire. 
Curtis students love the contest, and say that it is an important part of their school year. Mary Ayala, a sophomore, said, "There were a lot of doors that were outstanding and my favorite door this year was room 321." Steven Ayala, a freshman and Mary's brother, added, "It was cool because it was my first time seeing it and I really liked how they decorated the doors. My favorite was my science teacher's door with the skeleton of a gingerbread man." 
Despite how fast the holiday season passes, the holiday doors that are created by the Curtis community still entertain and linger in the minds of students and teachers new and old alike.